Nothing is more frustrating than a refrigerator needing repair. It's not only inconvenient, but it can be costly if your food spoils.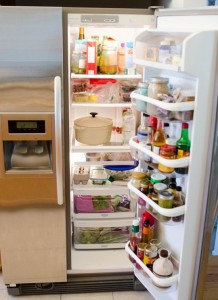 When a refrigerator or freezer needs service, we make a special effort to get to your home quickly. We know time is money if your food is spoiling.
A refrigerator is a complicated piece of equipment that generally needs the attention of a professional appliance technician, but not always. Here are a few things you can check.
 Not Cooling  Properly issues, check the condenser coils and make sure they are not clogged with dust or pet hair. Most condenser coils are located underneath or in back of the refrigerator, the rear panel may need to be removed. Make sure no objects are obstructing the air vents inside the refrigerator, this could fool the thermostat into cutting off too early. If you are unsure there's a cooling problem, adjust the controls (refrigerator and freezer) to the half-way setting. Most manufacturers preset the temperatures to be (37 degrees refrigerator) and (0 degrees freezer) at the half-way point (Controls set to the highest setting create problems). Recheck the temperature after 12 to 24 hours with a refrigerator thermometer. If you don't have a thermometer ice cream should be firm at 0 degrees.
No Ice issues, check to see if a piece of ice is hung-up in the ice maker. If you have a  water filter change it or check for good water pressure at a water dispenser.
Electronically Controlled Refrigerators, unplug the power cord or turn off the circuit breaker, wait 5 minutes to reapply power. This will reset the refrigerator's computer board and remove any data errors. A display panel can show fault codes, blinking digits or have abnormal functions when there is a problem, you should contact us for service.
We Service All Brands: Sears, Kenmore, Whirlpool, GE, Frigidaire, Electrolux, LG, Samsung, Maytag, Roper, Jenn-Air, Amana, Hotpoint, Magic Chef, Admiral, Estate